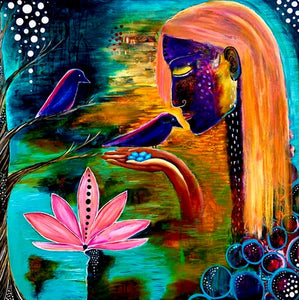 Harmony is a print of my original acrylic painting with the same name. Matted prints and canvas prints can be ordered on this page.
Matted Prints
Matted prints are fine art prints using pigmented inks on fine art paper. They come matted in your choice of a white or a black smooth surface fine art mat. Prices are by size and represent one matted print for that size. Choose the size from the drop down menu to see the price under the title at the top of the listing.
Note: Cropping will have a slight affect on the width and height of each print size. 

Available Print Sizes:
4X4 Print with a White or Black 6X6 Mat - Fits a 6X6 Frame
6X6 Print with a White or Black 10X10 Mat - Fits a 10X10 Frame
8X8 Print with a White or Black 12X12 Mat - Fits a 12X12 Frame
12X12 Print with a White 20X20 Mat - Fits a 20X20 Frame
Canvas prints:
I'm having a sourcing challenge with frames for the canvas prints. They have been on backorder since July and I still don't have a ship date. Please reach out if you are interested in a canvas print and I can work with you on the limited options I have.
The canvas prints are printed on fine art canvas using fine art pigmented inks and varnished for protection. Each print is gallery wrapped. The sides are one inch deep and colored black. The canvas print comes with or without an additional frame. There is a hanging wire on the back making the canvas print ready to hang on the wall.
Canvas Print Sizes Available:
8X8 or 10X10 Print stretched on a gallery wrapped wood frame. The sides of the print are black. The stretched canvas comes by itself or mounted in a black floater frame. 
Note: Your order may take up to two weeks to ship depending on my stock levels at the time of your order. It's not unusual for me to print to order. Drop me a note on the contact page if you have any questions about my prints or how long a particular order will take to go out.